Brand: Raptor Workholding Products
Raptor RWP-018 Aluminum 0.50" Dovetail Fixture 3.8" Dia. BC
SKU: RPT-RWP-018
MPN: RWP-018
$931.89

$931.89

Save $1.49
---
*Product images may differ from actual purchased item.*
**Please contact Sales@freertool.com for all lead times before placing your order. Once paid for, any cancellations will have a 4% cancellation fee.**
---
*Please note, there is a $50 minimum for all Raptor product orders*
Short Description
Raptor RWP-018 Aluminum 0.50" Dovetail Fixture 3.8" Dia. BC
---
Full Description
| | |
| --- | --- |
| Dovetail Width in. | 0.500 |
| Dovetail Height in. | 0.1250 |
| Max Workpiece Weight lb. | 10 |
| Max Workpiece Width in. | 4.75 |
| Max Workpiece Length in. | 4.75 |
| Max Workpiece Height in. | 4.75 |
| Fixture Material | Aluminum |
| Number of Clamps | 2 |
| Clamp Part Number | RWP-CL306SQ |
| Fixture Height in. | 3.000 |
This 0.50? dovetail fixture is utilized for milling and turning applications. It offers superior clamping strength while allowing access to five sides of the workpiece. The fixture comes with the four mounting bolts, one Dowel Pin for location. The optional base plug (which you can turn down to the size you need) is sold separately – see spare parts: RWP-208-Plug.
The standard RWP-018 is manufactured from 7075 Aluminum and anodized: Class 2 Type II.
Raptor Dovetail Fixtures are made to hold your part on four and five-axis CNC machines. The fixtures provide rigid clamping while exposing five faces of the workpiece – Most features can be completed in a single operation. Our unique Raptor Dovetail spring-loaded clamps require only 1/8? of material to hold the workpiece. That means less waste, easier prep and no distortion. You prepare all your parts with a single dovetail and utilize the same fixture for every part. Easy, strong and efficient.
* Typical workpiece size dimensions (L x W x H): From: 2.50? x 0.950? x 0.50? To: 4.75? x 4.75? x 4.75?
Patented Design. Patent US8,672,310 B2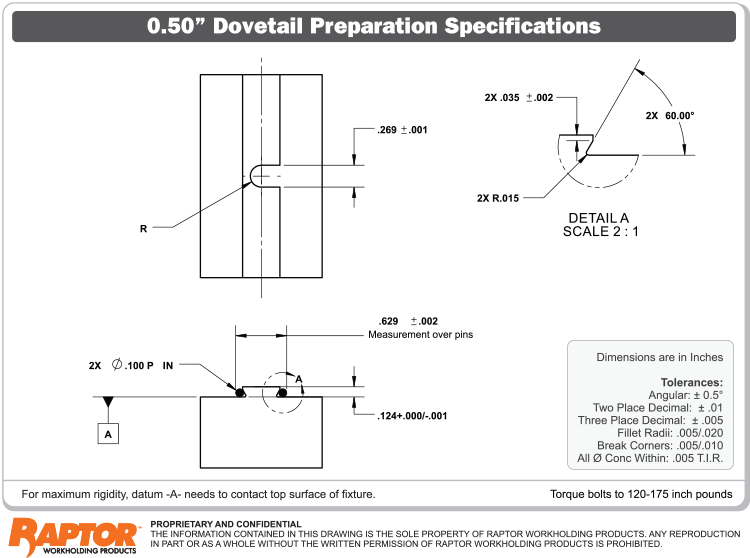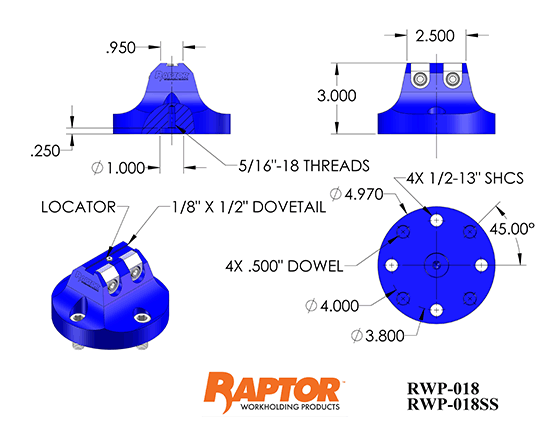 choosing a selection results in a full page refresh